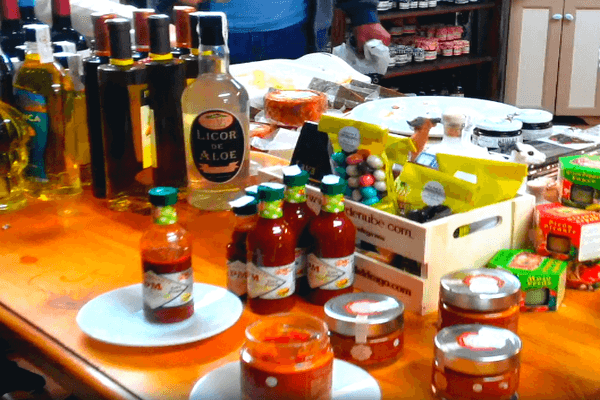 What souvenirs to buy in Tenerife? – This question is of concern to those, who are only looking forward to their holidays on this amazing island, and those, who are already enjoying its beauty and will soon go home. Leaving Tenerife, all tourists want to bring home not only thousands of colorful photographs, but also souvenirs, as well as food and alcohol, which they managed to taste, where they had a rest and experienced vivid emotions. Some things and foods can be presented to friends and relatives, and something can be tasted with your family or put in a prominent place to remind you of the amazing island in the Atlantic Ocean and the beautiful weeks spent there. In this article, I will tell you, what best souvenirs from Tenerife (food products and alcohol), prodoced there, you are worth bringing from your trip.
Canary Goat Cheese (Queso de cabra)
Cheese lovers will appreciate the famous Canarian cheeses made from goat, at least – cow and sheep milk. These products are produced on all islands of the archipelago. In Tenerife, you can buy both local cheeses and products from Gran Canaria, Fuerteventura, Lanzarote, etc. They all have a pleasant taste and are high quality products.
Tenerife produces soft (fresco), semi-hard (semi-curado) and hard (curado) cheeses. The longer they mature, the firmer they become. The most popular are semi-curado or semi-aged foods (ripen from 8 to 16 weeks) and hard aged cheeses (curado) . Maturing term: up to six months. These products are coated with olive oil, paprika, oregano, cumin, garlic, cinnamon, and goffio flour. Some varieties are soaked in wine or smoked.
Where to buy: Popular brands of Tenerife cheeses are "Arico" "Montesdeoka" "Benijos". These products and other cheese-making products can be seen and tasted at numerous tastings,, that take place on holidays throughout the island. Canary cheeses are sold both in cheese factories and in company stores, as well as in large chain supermarkets "Mercadona", "Hyper Dino", "Guai" and others. Delicious cheese heads can be found in food markets and souvenir shops.
Cost: from 7-9 euros for 400 gr.
Canary Sauces (Mojos Canarios)
No hostess will refuse, if you give her a jar of traditional Canarian "Mojo" sauce. The most popular sauces prepared on the basis of olive oil with the addition of wine vinegar are green "mojo verde" made from coriander or parsley and red "mojo rojo" with red pepper. So that tourists can try more types of these products from the manufacturer Guachinerfe, they are sold in sets of 2-4 jars. As a gift it is better to buy 4 jars of sauces. The set includes green with coriander, carrot, cheese almogrote and red with pepper.
Where to buy: You can try sauces at tastings in many fruit shops and small grocery stores. They are sold in any supermarket chain "Mercadona", "SuperCOR", "Hiper Dino" and in good souvenir shops.
Cost: Small jars with sauces cost from 2.5 euros, sets – from 3.5 to 5 euros. Often promotions are held in many supermarkets: if you take two sets, then the second one can be bought with a 50% discount. For example, 8 jars (2 sets of 4 sauces in assortment (40 g x 4 pcs.)) At a discount cost 7.09 euros instead of 9.46 euros.
Flower Honey (Miel)
Tenerife is famous for its unusual plants. Some of them you will not see anywhere else on Earth. They only grow on the slopes of the Teide volcano in Cañadas del Teide National Park. Fragrant flowers attract thousands of bees, that collect nectar from them. Later, honey is made from nectar.
Honey collected from the flowers of the plant Retama monosperma, is considered one of the most delicious beekeeping products. In spring in Teide Park you can see shrubs, covered with lush hats of white and very fragrant flowers. Bees are buzzing above them, and around the shrubs there are information signs, asking them not to stop the bees from collecting pollen.
In the same park grows the most interesting endemic flower of Tenerife: tajinaste. Its red towers, studded with small red flowers, seem alien against the backdrop of volcanic landscapes. Light honey with an unusual taste is also obtained from the nectar of the flowers of this plant.
In Tenerife you can purchase more than 15 types of sweet treats. In addition to tajinaste and retama, bees collect nectar from agave flowers, licorice, heather, avocado, fennel, chestnut, etc. The best honey is Miel de Tenerife. Since 2012, local honey has been given the status of D.O.P., which confirms the high quality of the product.
Where to buy: It is best to purchase a sweet product in special stores in the northern part of the island, for example, in the House of Honey (El Sausal city). In the south of Tenerife, in the resort towns of Adeje and Las Americas, you can buy honey in large souvenir shops.
Cost: a small jar of real Canarian honey (485 g) will cost from 5 euros.
Alcohol
The Canary Islands many centuries ago were famous for wines of excellent quality. It was here, that was maded the famous Malvasia, which was called the drink of the gods. Malvasia is a grape variety, that grows high in the mountains. For example, in Tenerife, grapevines grow well at an altitude of 1600 m (these are the highest vineyards of Malvasia in the world). The humid climate of the northern part of the island and the Teide volcano, well-lit of sun, create excellent conditions for growing wine berries. Malvasia of Tenerife is a sweet fortified wine with a bright taste and a nutmeg bouquet. Product color is white or pink. Local winemakers also produce semi-sweet and semi-dry beverages. In total, about 150 varieties of wine are produced in Tenerife.
In the northern town of the island, Icod de los Vinos, there is the Museum of Malvasia, where you can learn a lot about this drink, read statements of famous people about it, for example, William Shakespeare, as well as taste several kinds of divine wine. In this city you will see another unusual, but tasty product – the liqueur Blood of the Dragon "Sangre del Drago". The composition of this product is dracaena juice, which is called the Dragon Tree. The bottle label depicts El Drago, the oldest Dragon tree in the Canaries. It grows in the same town. Many women will enjoy the sweet, even cloying, banana liqueur. It is produced by several island wineries.
From Tenerife, be sure to bring honey rum Ron Miel Canario. Although it is produced at the Artemi liquor factory, which is located on the island of Gran Canaria, this drink you can also to buy in Tenerife. In fact, this is not rum, but liqueur with a strength of 20 to 27%. It has a pleasant honey taste.
Where to buy: the aforementioned wines and liqueurs can be purchased at alcohol shops in the cities of Icod de los Vinos, La Orotava, in the wine cellar of Tacoronte. Many wines can be bought after tasting in numerous wineries in the north of the island and in the Vilaflor village. You can easily find popular alcoholic beverages in souvenir shops, as well as in all grocery supermarkets in Tenerife.
Cost: It will be cheaper to buy wine or liquor in a regular supermarket. At tastings and shops at wineries or cellars (bodegas), its cost is too high. Good Malvasia in the supermarket will cost from 20 euros per 1 liter, and Sangre del Drago liqueur – from 14 euros to 0.5 l. A half-liter bottle of yellow banana liqueur can be bought for 4-5 euros. 1 liter of honey rum Ron Miel Canario from the factory of Artemi in the supermarket you will find for 9-9.90 euros. Many souvenir shops sell small bottles of various liqueurs and 100 ml wines. They cost from 1.5-2 euros.
Fruits
Tenerife is not for nothing called the island of eternal spring. Here the weather is great all year round, and the temperature even in the winter months does not fall below 10 C. The excellent climate allows you to grow different types of fruit on the island. In addition to lemons, peaches, grapefruits, oranges, apples, plums and pears, exotic fruits, such as papaya, avocado and figs are cultivated here. If you wish, you can not only taste these fruits in the Canaries, but also bring them home.
Be sure to try the local bananas. They look like ordinary fruit/ sold here, but more sweet and small (plump and short). The island has many banana plantations, where you can see, how these fruits grow. Oranges can be brought home from Tenerife. They are very juicy and sweet here.
Another interesting fruit is nispero. These are small fruits of bright orange color the size of a plum. They ripen in the northwest and north of the island in April and early May. Nispero is fleshy fruit. Inside there are 1-2 small flat seeds. The fruit has a pleasant sweet-sour taste, reminiscent of a mixture of apricot with apple and pineapple. Very tasty fruit! Nispero is not stored for a long time, but it is quite realistic to take them home and use within 1-3 days.
Where to buy: it is best to buy fruit in Tenerife in special fruit shops, which are called fruteria. Here you can find the freshest fruit at a good price. Large selection of fruits in the markets and grocery supermarkets.
Cost: Local fruits in Tenerife are inexpensive: from 0.90 euros per 1 kg. For example, bananas can be bought for 0.90-1.25 euros, oranges – for 0.99 -1.15, and nispero – for 2.50 euros.
I hope, the article "Tenerife souvenirs (food and alcohol) – what to buy?" will help you not to get lost in the variety of Canary products and make the right choice. Perhaps in Tenerife you will like other food products, and you will bring home completely different products and alcohol, and not those, about which I told. Well, I will be very interested to know, what you liked on the island of eternal spring from alcohol, fruit and other products. Share your preferences in the comments!