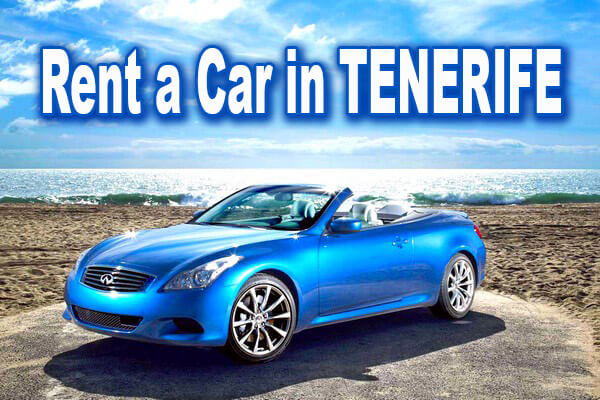 In recent years, among travelers, car rental in Tenerife has become a very popular service. "The island of eternal spring," as Tenerife is also called, is quite large. There are many attractions: the ocean, beautiful beaches in the south, the national park with the Teide volcano in the central part of the island, the pyramids of Guimar in the east and the relic laurel forests among the Anaga mountains in the northeast. This is not a complete list of Tenerife's interests. To see as many wonderful places as possible, you can use of buses and taxis, but a rental car will help you to visit them better. Detailed information about the benefits of renting a car on the island of Tenerife, its features and procedures, the cost of cars can be obtained below.
Advantages of renting a car in Tenerife
Agree that on this beautiful island of the Canarian archipelago, few people will want to spend 60-70% of their time on the beach or in restaurants, unless very lazy tourists. Many tourists travel here to enjoy the marvelous nature of Tenerife, and, therefore, to see as much as possible in those 7-14 days, which can usually you have for a long-awaited and well deserved vacation. Since it takes a lot of time to explore Tenerife, you want to visit as many of the island's natural attractions. And on foot it is impossible to do it in such a short time.
Although public transport in Tenerife exists, in particular, it is a bus company TITSA, there are a few shortcomings of travel by bus. First, they go on schedule. Sometimes 1-2 times a day, which, of course, tie you to a place, you have to adjust to this schedule, reducing your excursion program. Secondly, by buses you will not get to those sights that are not very popular, but you would like to visit them. Also, when traveling by bus, you often need to adjust to transportation, again losing valuable time. As for taxis, this is not the most democratic mode of transport, you can not take a taxi for a long time. But renting a car in Tenerife is the best option for those who are used to cognitive rest and who are pleased with the sense of freedom that the "your" car (let only for a while) can give you.
Thanks to a rented car, you can save some holiday money. Gasoline on the island is cheaper than in mainland Spain, because the Canary Islands – a zone of duty-free trade. If you travel with friends or a family of 3-4 people, then renting a car will not be expensive for you. Spending the amount of rent for all travelers, you immediately feel the savings from this mode of transportation. But the most important plus of temporary possession of a rented car is the fact that you gain complete freedom of movement around the island. At any time, convenient for you, you can set off and see the most interesting places of the island, not only with the help of live webcams Tenerife, but also in live!
Do not rush to the bus stop headlong because of the fear of being late for the bus, if you overslept. Do not regret that the bus drove past a beautiful building, and you do not have the opportunity to get out of it and take a picture against the background of the object. Do not hurry on the volcano Teide in a hurry and do not glance at the clock with the thought: in half an hour I must return, because the transport is going away. You can spend as much time in a beautiful place as you want, because your car is just waiting for you, which will take you to your next destination when you want it.
Where can I rent a car in the island of Tenerife?
Where can you take a car for a while and go on it it on an amazing island? In Tenerife, you will not be deprived of attention by car rental firms. Here you will find the main international offices: Avis, Hertz, as well as local island rental companies, for example, CICAR, Autoreisen, etc. An excellent opportunity for those who just got off the plane will be renting a car in Tenerife South Airport. In the building of this airport there are a number of the above mentioned offices and you can conclude a rental contract right here, and then go by car to your hotel, without spending a cent to transfer from the airport Tenerife South in the bus or taxi. Tenerife's North Airport also provides car rental services.
If you want to choose a car on the spot, then you will not have to search for an office for a long time. On the streets of resort towns and even in your hotel can be located car rental offices. But in this case you will have to pay for the trip from the airport to the hotel. Some offices in Tenerife provide a lease only in Spanish, and if you do not know it, you will not be able to understand the terms of the lease and will be trapped. But a number of offices can give you a contract in English. You can only read and read it carefully. Often important information is printed in the smallest font, be vigilant, carefully examine each line of the contract before agreeing with it.
Advantages of online car rental in Tenerife
Of course, many travelers will want to rent a car on arrival to the Canary Islands, but it is much more convenient to do this in advance by booking a car on the Internet. Often for the reservation, experienced tourists use the services of an international broker who has data on various rental offices and their fleets. This is an international service Rentalcars, which provides online booking machines in different countries. Online car rental in Tenerife has a number of advantages over the preparation of a contract for the temporary use of the vehicle on the spot. Let us consider them in more detail.
• It does not take you long, just a few minutes, to find out if there is a free car of the class you want in the rental offices of the island of Tenerife, which you would like to rent at the dates you need.
• Rentalcars allows you to quickly compare prices in different companies and choose the most suitable option for you.
• Thanks to an online broker, you can compare lease terms, determining for yourself the most profitable of them.
• The Rentalcars service supports the English language, so you can easily understand everything that is stated in the lease agreement.
• If something is not clear to you when booking, you can get professional advice from English-speaking service managers.
• If you rent a car for a long period (from 7 days or more), the service gives you a discount, which saves your budget. A good discount can be obtained with an early booking car.
• With the Rentalcars service, you can easily find a car with full insurance and without a franchise.
• If you travel with children – the Rentalcars service will provide you with a car with one or more child seats.
• In an unforeseen situation, if you can not go on vacation at the scheduled time, and the car has already been booked, the international
service allows you to cancel the reservation without prejudice to you 48 hours before the start of the lease.
• If you still doubt whether it is worth ordering a car online, read reviews about rental offices and pay attention to their ratings.
Thus, thanks to the Rentalcars broker you can rent yourself a car at the best price, with the optimal rental conditions and do it, saving your time and money.
Car rental in Tenerife – special features and rules
To choose a car in the Canary Islands with online rental broker Rentalcars, you should be aware of some of the features of car hire in Spain. In order to book a car, you must have rights. Some rental firms in Tenerife insist at rights of the international standard, others speak enough that you simply have rights. Rent offices also prefer to give cars for temporary use to those drivers who spent at least one or two years behind the wheel. In Spain, mainland and island, you can not rent a car if you are not 21 years old. Individual firms indicate the minimum age of the driver – 25 years. If the rights, length of service and age are appropriate for you and fit the Spanish standard, you can safely book your car with Rentalcars.
What other details do I need to know before booking? As a means of payment, credit cards are used here. If you do not have such a card, be sure to order it before your trip, otherwise you can not take the car for hire. The offices that rent cars in Tenerife, when placing an order, block the amount of 200-300 euros on your credit card until the end of the period of using your car. This is done in case of unforeseen troubles. Even when you return the car back, the amount on the account is still "frozen". Usually it is thawed 5-7 days after the end of the lease. Therefore, make sure that at your credit card always has this amount of money.
Insurance and deductibles when booking a car in Tenerife
One of the main concerns of drivers using someone else's car is the fear of damaging it. Do not necessarily get into a major accident, you can only pierce the wheel or scratch the door and it seems that trouble can not be avoided. In this case, in the rental offices of Tenerife (and throughout the world, too) there are such concepts as deposit and insurance, which guarantee compensation for damage caused by your fault to the car from the rental office. The deposit is the amount of 150-300 euros, which is blocked on your credit card at the time of renting a car and serves to cover damage that is not covered by insurance (for example, puncturing the wheel). Also from the deposit calculate a certain amount that goes to refuel the car in the event that you returned the car not with a full tank (when returning the car make sure that the worker noted in the inspection sheet that the tank is full, especially when you are renting a car in GoldCar). If there were no problems with the car and you returned it with a full tank, the deposit amount is fully refunded to your card.
Always order a car with insurance, and not with partial, but with full. Many firms involved in car rental in Tenerife, use such an item in the contract as having a franchise. A deductible is the amount of money that you must pay in the event of damage to a rented car. That is, this amount is not covered by insurance. Usually in Spain the size of the franchise is 600-1400 euros, but there are also rental offices with a zero franchise. If the damage is serious, above the amount of the franchise specified in the lease agreement, then the insurance company will reimburse them. As it is a question of very considerable sums, it is better to rent a car in Tenerife in the rental offices, in which the franchise amount is minimal or zero, i.е. All possible damages are covered by the insurance company. The most often zero franchise when renting a car  online in Tenerife offers the company TopCar, which at the same time has very high customer ratings. The size of the franchise can be viewed in the search results under the "Terms and Conditions" (link of name of rental company)  tab – "Deposits, Excess and Cover" (under the car photo).
If you prefer insurance with a franchise, be sure to check the rented car from all sides before you board in it. If you find any scratches, dents ask that these damages were written down in your contract, otherwise you will later have to pay for them. In Spanish rental offices, there is a rule: the higher the deductible, the cheaper you will get car rental in Tenerife, although there are times when renting a car with a zero deductible is even cheaper (competition among rental companies affects). But if you do not want to make insurance with a franchise, use the Rentalcars service to look for an office where you will be provided with full car insurance. In this case, the insurance company will pay everything except for minor troubles in the form of a puncture of the tire or broken glass. It is better to rent a car in Tenerife with a zero franchise in advance, and not on arrival to the island, because many drivers try to book such cars first.
How many days is it more profitable to rent a car?
 If you came to the island of Tenerife for only a few days, then, most likely, the machine will need you for a short time, and, perhaps, only for 1 day. As already mentioned above, the longer the term of your lease, the more profitable it will be for you. Small cars such as Fiat Panda will cost you € 30 per day. When you book a car for 3 or more days, the cost will be lower (by 2-3 euros per day). Your vacation lasts from 10 to 14 days and you take a car for a week – the rent is reduced by another 5 euros. When you book a car for 1 month, it will cost you from 8.5 to 15-18 euros per day. If you are interested in a larger car, it will cost more. For example, a minivan Renault Kangoo with a reservation for a month will cost you the same 30 euros per day, but in fact you are going to travel on it a big company? Spread the sum on all friends and be pleasantly surprised by it. Thanks to the Rentalcars service, you can see the best offers, a great discount and choose a car to your liking for the time you are interested in.
How to rent a car online?
As already mentioned above, the Rentalcars broker will quickly and easily help you book your car on the internet. Since each rental office has its own conditions for rent, we will not dwell on them in detail. You yourself will easily see them, finding yourself a car of the right class. Clicking on the "Rental Conditions" tab allows you to familiarize yourself in detail with the documents that are necessary for obtaining the reservation, with the rules for obtaining the car and its return. There will also be an item on fuel (many offices require the return of cars with a full tank), etc. In general, in different offices, the main difference will be prices, the number of cars and their class, the absence or presence of a franchise, etc. minor differences.
When you have chosen a particular car, you should click on the "Book" button. Do not forget to specify the return point of the machine. This is important if you rent a car at the airport of Tenerife South, and want to return at the North airport . Remember that a number of offices charge an extra charge for this circumstance, and in some cases this service is free of charge. Also you will be given the choice of additional services such as a child seat, navigator, the second driver. These functions are usually paid at the place of conclusion of the contract in cash. If you do not like to spend more money, then you can not take the service "navigator". In your smartphone you can set a special program that will help you navigate an unfamiliar island. Children's chair also you do not need, but only on the condition that you are not traveling with a family with kids,and your company consists of adults.
As for such a service as a second driver, it is worthwhile to dwell on it in more detail. This service usually costs 5 extra euros per day. It means that not only you can manage a rented car. Your fellow traveler or fellow traveler can do it. If you refuse this option, but in fact you will drive the machine in turn, there is a danger of incurring trouble. Imagine the situation that you will be stopped on the road and find another person behind the wheel, whose driving seat is not registered in your rental contract. You will be fined without talking. Therefore, be honest to the maximum when concluding a contract.
Further, when ordering online, you will need to enter your passport details in special boxes, specify the e-mail address and card number. When you book a car and pay its rent, you will receive your contract by mail and carefully study it again. It is desirable to print this document and take it with you on vacation, but the electronic version is also suitable for presentation to company representatives. Car rental in Tenerife South airport is quite fast. Upon arrival, you find the office of your rental office in the airport building, present the passport or driver's license to the manager, print out the contract. Then they show you the car. Do not forget to inspect it from all sides and if there are scratches, ask them to indicate their presence in your contract. After 30-40 minutes you can take a leased means of transportation and go on an unforgettable trip to the island of Tenerife.
When you return the car back, be sure to ask the employees of the office to note in the inspection sheet that everything is in order with your car. This will be insurance for you in case the unscrupulous firm will want to "drop" you and write off the frozen amount or part of it from the credit card. Such cases sometimes took place, but, as a rule, small budget offices dealt with this. Therefore, when renting a car, do not belive too suspiciously low prices and super-profitable offers from unknown rental companies. Remember the expression that "miser pays twice." Look for inexpensive, but trusted offices, read reviews of experienced travelers and always be careful. On the island of Tenerife, there are good roads and cheap gasoline, so you get a real pleasure cutting through the Canaries in a rented car and feeling free and comfortable.
You can leave your comments about car rental in Tenerife below.
[ad#end]