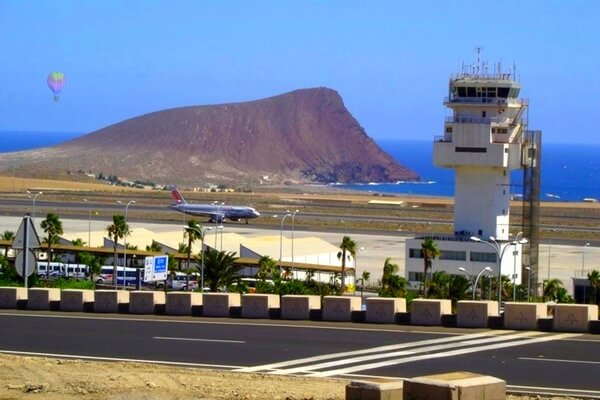 The airport is the first place where travelers get to, traveling to the country where they are going to spend a honeymoon, a vacation or a long-awaited vacation. Up to the Canary Island of Tenerife by air from Europe you need to get at least 4 hours. Naturally, after a long journey all tourists want to quickly be in the hotel, take a shower or plunge into the cool waves of the Atlantic Ocean. But there is still a procedure for getting baggageand finding a way out. Tenerife South Airport is a modern aviation terminal located some distance from the northern and southern resorts, loved by tourists from different countries. There are several types of transfer from it. This article provides detailed information about the airport of the island, as well as about the transport that goes from Tenerife South Airport to the resorts and cities of the largest of the Canary Islands.
General information about airport Tenerife South
Tenerife South Airport is the second, more recent, airport of the island. It was built not so long ago, only about 40 years ago, more precisely, in 1978. The prerequisite for the construction was the fact that in Los Rodeos (North Tenerife airport), flights canceled frequently due to fog and weather. Currently, the Northern Airport for this reason does not work at night. The weather in the north of the island is wet and overcast, so it was decided to build a new terminal in the southern part of the island. It became the Reina Sofia Airport, which was originally called South Tenerife Airport, since it was opened by the Spanish Queen Sofia.
Tenerife South Airport has only one terminal for passengers. It is located in a three-story building, which is adapted for passenger services. There are also cafes with restaurants, and shops, and bank branches. You can also go to the chapel or tourist office. On the territory of this airport there is a room for mother and child, and you can fly from this airport to other islands of the Canary archipelago: Gran Canaria and Lanzarote. By the way, it was from the last island that the first flight to Tenerife South Airport in November 1978 was made.
Also it has playground. These circumstances are very good for passengers traveling with children. In general, you will not have to miss while waiting for a flight. Tenerife South Airport takes planes from the main European countries: Great Britain, Germany, Benelux, Scandinavia. Air communication with mainland Spain is established.
     Tenerife South Airport (TFS) – Live Arrivals and Departures
Please, select in the table the time period that interests you!
More details on air flights can be found by checking the online board of arrivals and departures of Tenerife South Airport, located above. Here you will find information about the city of departure of the aircraft, the time of departure and arrival at the airport of Tenerife South, see which airlines fly to and from the island. Online scoreboard is convenient for those who for some reason can not meet close people directly at the airport. After viewing the online scoreboard, you will see at what time the necessary flight has landed. Please note: you can switch between departing and arriving flights at the top of the table of online scoreboard.
Tenerife South Airport is 20 km away from the noisy resort of Las Americas, so those tourists who are going to have a rest there, are incredibly lucky. But travelers who have chosen for their holidays the northern part of the island and in particular the capital of Santa Cruz de Tenerife, will have to go to a place of rest 60 kilometers. If you flew here, and fly away from the North Airport, be aware that the distance between the two airports is 65 kilometers.
How to get from the airport Tenerife South to the place of rest by bus
For many budget travelers or backpackers, air travel makes up a significant part of the cost of rest, so on such things (living, eating, rich entertainment), such people try to save money. If you are a backpacker, you will begin to save currency already upon arrival at Tenerife South Airport. Naturally, you will want to get from here to your hostel or hotel cheaply. And the most budget option in this case will be a bus. How to find this type of transport at the airport?
When you leave the arrival zone on the first floor on the street, then, looking around, immediately notice the buses are bright green. They all belong to the company TITSA, which deals with the transportation of passengers in the Canary Islands. A bus stop you will see a little further from the exit from the airport. There will also a timetable for the movement of this transport. Green handsome TITSA ply between destinations with an interval of 30 minutes. You should know that each stop in Tenerife is assigned its serial number, the bus numbers and their routes (airport, beaches, towns) as well as the time of departure are indicated below in the schedule.
If you are coming from the airport to the Costa Adeje or to the Los Cristianos resort, take the bus at number 111. It will take you to your destination in about 30-40 minutes. The final stop of this route is the bus station. From the station during the rest you can go on a trip around the island. Here you can also get a paper map of bus traffic in Tenerife. On the same bus number 111 you can get to the capital of the island – Santa Cruz. If you are planning to relax in Las Americas, then you will be approached by the bus number 450. You can see the schedule of its movement in the picture below.
Please note that if you arrive at Tenerife South Airport about 10.00 in the morning, then you will not be able to reach your hotel on this bus so soon, since from now on the interval for buses of route No. 450 will be 1 hour, and on weekends 450 goes even less often. There is another bus number 343, he drives to Los Cristianos only 4 times a day. If your final point is Las Americas, then on this bus you can not reach him. Before you get into the transport, check with the driver, he will go to Las Americas or only to Los Cristianos.
Tourists wishing to save money on the trip, will not hurt to know, that in the Canary Islands in buses and trams you can ride on the travel card TITSA tenmas. It has been operating on the island since May 2018 instead of the BONO card. It costs  2 or 5 euros, and you can put on a card from 5 to 100 euros, but each trip on the card will cost 30% less, than, if you bought a ticket from the driver. For example, to Las Américas a regular one-time ticket costs 3.70 euros, and if there is a tenmas you will pay 2.90. How to use the TITSA tenmas card, you can learn from the article "Public Transport in Tenerife." Buy Titsa tenmas can be in the building of the Southern Airport in the kiosk with the inscription La Alpizpa, which is located in the departure hall. Also at the bus stations this card is sold.
If you flew to Tenerife South Airport, and the purpose of your holiday is north of the island (Puerto de la Cruz), then you need the already mentioned 343 bus, but remember that it rarely drives. On the road you will take an hour and a half. The trip will cost 13.55 euros, on the tenmas card – at 9.35. So, if you do not spend all the time on the beach, and usually backpackers are curious people, buying a tenmas card is a great option for you. If you are traveling with a family or in a big company, then you know that one map of tenmas you can go with few people. By TITSA buses you will comfortably get from the airport to your hotel and spend some money.
How to get from the airport Tenerife South by taxi?
For those who are not used to counting every penny (Eurocent), who does not save money, but who save his time, there is a more comfortable and expensive mode of transport. This is a taxi. The taxi rank is opposite the exit from Tenerife South Airport. Machines you can find out by white color, and also by letters SP, which are located on the bumper. They mean servicio publico "public service", since there is no private car of taxy on the Canary Islands. Before you take a taxi, remember that you will need to pay for landing, for the fare and for the luggage. Also, you should know that on weekdays and during the day, taxi services will be cheaper. On Saturdays, Sundays, holidays and at night, travel by taxi will cost more. In any case, this type of transport will quickly take you to your place of residence or to the city center.
How can I get from Tenerife South Airport by taxi transfer?
Another popular means of transportation on the islands of the Canary archipelago is a car-transfer KiwiTaxi. This service is suitable for those tourists who love comfort and prefer to do everything for this. Also, a taxi-transfer will appeal to those travelers who do not know foreign languages, do not want to explain themselves for a long time with gestures or scraps of phrases with taxi drivers, they are afraid that local people will deceive them. If you want to leave the airport immediately after arrival and after half an hour to be in a cozy hotel, then a taxi transfer is at your service.
From the usual taxi this service differs by the presence of additional services. Firstly, in the hall of the arrival you will be met by representatives of a taxi transfer and will drive to the car, also will bring your luggage. Secondly, you will know in advance the fare, because when booking everything can be negotiated or calculated. Third, you can choose your own car class. It can be a sports car, a woman's car, a minivan or a jeep. Everything is at your service according to your desires. Knowingly a taxi-transfer from the airport of Tenerife South becomes more and more popular among travelers from different countries. This is a very convenient and high-quality service.
Car rental in Tenerife South Airport
The bus and taxi will take you to your destination, of course, but then you'll have to call a taxi again, or get to the bus stop to travel around the island and explore its sights. It is much more convenient to travel by own car. If you do not have the opportunity to get to Tenerife from mainland Spain by private transport, then at your service – rent a car.
Even a few months before the departure date you can reserve a car for your desired brand, color, size. Thanks to the service Rentalcars, any traveler will choose a suitable office for car rental, because they are dozens in Tenerife. If it is impossible to fly out or unforeseen circumstances, you can refuse the reservation without losing money. Rent a car in Tenerife – an excellent opportunity to save on transport. You can order a car at once to the airport and go to it to the place of rest. It's nice that the petrol in Tenerife is cheaper than in Spain. Thus, renting your favorite car, you can go to any point of the island you are interested in at any convenient time and return to your hotel when you want, without standing at bus stops and waiting for the green bus.
Each of the types of transport described above has both pluses and minuses. But any tourist will find the most suitable transfer from Tenerife South Airport and will get an unforgettable impression of vacation on the island of eternal spring.