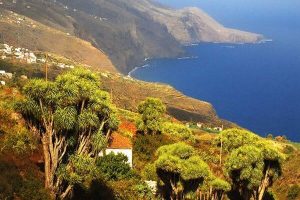 If you want to see the greenest island of the Canary archipelago, you will be interested in the question: how to get to La Palma. The abundance of natural attractions, ancient towns in the mountain valleys, beautiful beaches and the opportunity all year round to ride the board on the waves – this is what attracts thousands of people on Palma or, as the Spaniards call it, La Palma. Located on the ocean Green Island (La Isla Verde) can be reached by air or water from Europe or other Canary Islands. In this article you will find information about the transport, that connects La Palma with the mainland and islands of the archipelago, find out its schedule and approximate ticket prices.
A few words about La Palma
Palma is located in the west of the Canary archipelago. Its closest neighbor is the island of La Gomera, located just 58 km or 36 miles from the southernmost point of Palma. The direct distance between the capitals of the two islands of Santa Cruz de La Palma and San Sebastián de La Gomera is 91.7 km or 57 miles. A little further from La Palma lies the westernmost Canary Island  El Hierro. The direct distance between the islands is 67.52 km or 42 miles. Palma, along with Hierro and La Gomera, is called the Western Canary Islands, because they are located west of Tenerife, with which they are part of the province of Santa Cruz de Tenerife. The direct distance from the eastern part of Palma to the westernmost point of Tenerife is 86 km or 53.5 miles. The distance between the capitals of the islands is 150 km or 93 miles.
The size of La Palma is 28 km long and 47 km wide, and the area is 708 km² (fifth place among the Canary Islands). Palma has a volcanic origin, and is also the second highest island in the archipelago after Tenerife. The highest point is considered the Roque de los Muchachos or the Rock of Guys (2426 m above sea level).
How to get to La Palma by plane
The quickest and easiest way to reach La Palma is by plane. The island's airport Aeropuerto de La Palma (SPC) is located 8 km from the capital. It connects Palma with the air terminals of other Canary Islands, Germany and mainland Spain. More often, local carriers Binter Canarias and Canaryfly fly here (about them will be described in detail below). When ordering a ticket, be sure to indicate in a special column, that you are not a resident (No Residente) of the Canary Islands, because the cost of tickets for locals and tourists is different. Residents tickets are cheaper.
Spanish carriers Air Europa and Iberia fly to Palma from Europe, less often British and American British Airways, LATAM Airlines, American Airlines, German company Condor, etc. For example, from Madrid to La Palma 2 hours of flight, from the German cities of Dusseldorf and Hanover – 3: 40 and 4 hours. Planes on La Palma do not fly from many European cities, so their residents or guests will need to travel or fly to the above cities, as well as Munich or Frankfurt, and then transfer to Condor, Iberia or British Airways planes, that will deliver to those, who want to go to Green island .
 For more information about the time of arrival and departure of the aircraft will help you electronic scoreboard of the airport of La Palma.
How to get to La Palma from Tenerife by plane
The end point of the route of many European airlines is the largest island of the Canarian archipelago – Tenerife. If you do not want to transfer in Germany or Spain, you can fly to Tenerife from London, Birmingham, Berlin, Barcelona, ​​Warsaw, Krakow and other cities. From here it is easier to get to La Palma. It is only necessary to transfer to the planes of local airlines Binter Canarias and Canaryfly, which in 30-130 minutes will deliver those, who wish to the Green island.
But tourists should know, that these planes are sent to Palma from the North Tenerife Norte Airport. If you arrived from the mainland to Tenerife South Airport (namely, the carriers Rianaer, EasyJet, Jet 2 and the planes of some of the above-mentioned European airlines arrive), you will need to move from one airport to another. You can do this by taking the direct bus number 343 or the bus number 111, going to Santa Cruz de Tenerife. From the capital to Tenerife Norte can be reached by buses number 107 and 108.
From Russia to Tenerife operate regular flights Aeroflot from Moscow Sheremetyevo (on Tuesdays, Fridays and weekends – 4 times a week) and Ural Airlines from St. Petersburg (Pulkovo) on Fridays. Round-trip tickets cost about $ 400. For more information on, how to get to Tenerife for residents of Russia, you can read, following the link.
If you are relaxing in Tenerife, you can fly from its North airport (Tenerife Norte Airport) to Palma 10-12 times a day on a Binter Canarias  airline. The departure time of the first flight is 7:30, then hourly from 8:00 to 20:00. Back from La Palma to Tenerife, flights are offered at 8:30, 9:00, 10: 30,13: 00, from 16:00 to 20:00 hourly. The journey lasts only 30 minutes. One way ticket costs 66-82 euros, depending on the fare. But if you take care of its purchase in advance, you can buy a ticket for 32, 39 or 46 euros. Often, Binter Canarias and Canaryfl organize promotions, when flights between different Canary Islands start from 5 euros. Then your trip will be budget.
For example, in March, the company Canaryfly offers to fly from Tenerife to Palma for only 20 euros (for non-residents). The number of tickets at this price is limited, so you shouldn't yawn, otherwise you have to pay 58 euros for a one-way trip. The carrier carries out 4 direct flights a day: the first at 7:50, the last – at 19:20. Travel time is 30 minutes.
How to get to La Palma from Gran Canaria by plane
The second most visited island in the archipelago is Gran Canaria. If you wish, you can fly from  Airport of Gran Canaria to La Palma 3 times a day with the help of Binter Canarias. Departures take place at 7:20, 17:20, 19:55. Travel time is 50 minutes, including transfer to Tenerife. One way ticket costs from 50 to 125 euros.
In March and April 2019 Canaryfly carries out an action for residents selling tickets on the route Gran Canaria – Palma for some dates from 10 euros. On other days, the cost ranges from 15 to 25 euros one way. Non-residents can find tickets from 40 euros one way (there are always tickets for 88 and 99 euros). Planes depart towards Tenerife twice a day: at 14:40 and 18:10. They arrive on La Palma at 19:50.
How to get to La Palma from Fuerteventura by plane
There is no direct flight between the eastern Canary Island of Fuerteventura and Palma. To get to La Isla Verde, you will need to buy a ticket with a transfer to Tenerife. Departures from Fuerteventura to Tenerife from 8:30 every 2 hours. The last flight leaves at 17:30. The flight with a transfer lasts 120 minutes. Tickets can be found from 60 euros.
Canaryfly flies from Fuerteventura to Green Island once a day at 12:55. Because of the transfer to Tenerife, the plane arrives at Palma at 14:50 and 19:50. Ticket prices are 40, 77 and 99 euros.
How to get to La Palma from Hierro, Lanzarote, La Gomera by plane
From the rest of the Canary Islands to La Palma you can only fly with a transfer to Tenerife. Binter Canarias aircraft take off from La Gomera at 10:30 and 17:50 (flight with transfer lasts 1:40). Ticket prices from 50-58 to 103 euros. From Hierro through Tenerife you can go at 8:55, 11:20, 15:20, 16:40 and 17:55. Travel time is 2 hours and 10 minutes. Tickets cost 62-103 euros, rarely 50-52 euros. A trip to La Palma from the farthest east Lanzarote island will cost more: from 64 to 132 euros one way. Planes take off towards the northern airport of Tenerife, where the transfer to the aircraft takes place to Palma, at 8:25, 11:20, 14:10, 15:20, 15:45, 17:00, 18:15 and 18:40. Travel time from 110 to 130 minutes.
Canaryfly flights to neighboring islands is possible with a transfer to Tenerife. From Hierro and Lanzarote to Palma, you can go at 17:35 (travel time 2:15) for 40, 69 or 99 euros and 68, 77, 99 euros, respectively. Canaryfly airplanes do not fly from La Gomera to the green island.
How to get to La Palma by ferry
If you do not like to fly or prefer sea travel, you can use steam as a means of moving. On this type of transport on La Palma can be reached from the mainland and other islands of the Canary archipelago.
Tourists, who are not limited in the budget, you can go on a journey from the Spanish city of Cadiz on a comfortable ferry company Acciona Transmediterranea. Ferries leave for the archipelago on Tuesdays at 5:00 p.m. and arrive at the port of Santa Cruz de La Palma 2.5 days at 8:00. One-way ticket costs 156 euros, if you are traveling in a chair located in the general salon. For a comfortable move, it is better to take a cabin, but in this case you should add 462 euros to the initial ticket price.
If you are trying to save on vacation, you can fly to the Canary Islands of Tenerife and La Gomera by plane of a low-cost airline, and from their ports go on a short journey through the waves of the Atlantic Ocean. The most popular ferry carrier is the company Fred Olsen Express. Her ferries depart daily from the port of Los Cristianos, located in the south of Tenerife, to the port of La Palma. Departure time – 9.00 and 19:00. Travel time is 3 hours 5 minutes. One-way ticket costs 48 euros. From La Palma to Tenerife, you can return by buying a ticket at 5:15. The ferry arrives in Los Cristianos at 8:20.
From the port of the island of La Gomera, located in the capital San Sebastian de la Gomera, you can also get to the port of La Palma on the ferry Fred Olsen Express. Departure times are 10:00 and 23:00. The journey on the ocean lasts 2 hours. From La Palma to La Homera the ferry leaves at 5:15. Arrival at 7:15. The cheapest ticket costs 48 euros. If you travel with a car, then the journey by ferry will cost 73 euros.
Maritime communication between Palma and Tenerife is carried out by the company Naviera Armas. From Monday to Friday, you can sail from the port of Los Cristianos to the shores of the green island at 18:30, on Sundays at 8:45. On Saturdays, the ferries of this company between the two islands do not go. The return flight is at 5:15. The cost of travel in 2 sides is 75 euros.
From La Gomera (San Sebastián de la Gomera) to the port of Palma can be reached on Sundays at 10:15 and weekdays at 19:45, in the opposite direction every day except Saturday at 4 o'clock in the morning. A basic round-trip ticket costs 48 euros.
How to get from La Palma airport to resorts
Bus
After landing in Aeropuerto de La Palma (SPC), tourists rush to the place of their holiday on this island. Everyone wants to quickly be in the right city or hotel. This will help you buses local company Transportes Insular. If you will sit of bus number 500, you can reach the resort of Los Cancajos (from 7:00 to 22:30 every half hour), as well as to the capital of the island of Santa Cruz de La Palma (from 7:00 to 23:00) . A ticket to the capital will cost 1 euro.
In the town of Los Llanos, you can go by bus 301, but it goes very rarely (at 8:45, 13:45 and 21:45). To get to the famous resort of Puerto Naos, you need to get from the airport to the capital by bus 500, and then make several transfers. From Santa Cruz de La Palma to Los Llanos by transport number 300, then from there by bus 204 to Puerto Naos (runs 1 time per hour from 6:30 to 21:30). Travel time is 30 minutes. Also from Los Llanos you can get to Tazacorte by transport number 100 from 6:15 to 21:15. Travel time is 15 minutes.
Taxi
If you do not want to transfer, you can take a taxi at the airport of Palma. 1 km of travel from 6 a.m. to 10 p.m. on weekdays costs 0.53 euros, from 10 p.m., as well as on weekends and public holidays, the cost of 1 km is 0.6 euros. As you sit in a taxi at the airport, you will have to pay an additional 1.65 euro for this. A taxi ride from La Palma Airport to the capital will cost 6-7 euros. The minimum fare for a taxi is 3.35 euros. This amount will be taken from you, even if you drive only a few kilometers. Travel by taxi to other towns of the island will cost more, but not more than 25 euros.
Car rental on La Palma
In order not to be tied to the schedule of buses on La Palma, active tourists, who know, how to drive a car and have the rights of international standard, it is recommended to rent a car on the Canary Island. This can be done directly at the airport or the port of Palma. But it is more convenient to book a car for yourself via the Internet, using the Rentalcars service. You have the opportunity to choose a car of the desired brand and at the best price from the rental offices of AVIS, Gold Car, Budget, etc. You can pick up a car booked at home from the airport or port and travel on it on the Green Island. For example, a weekly car rental on La Palma (Volkswagen Up) will cost 95 euros, that is, 13.5 euros per day, and if you travel together or three, the amount divided into all will be quite small.
Thus, you can get to La Palma from the continent and other Canary Islands by plane or ferry, as well as by both means of transport. Despite the availability of direct flights, many people are not available fast way to travel to the green island. They have to make several moves and transfers, or combine the plane with the ferry to be on Palma. But such voyages are often interesting and rich in emotions, so they are remembered for a long time. I wish you a pleasant and exciting trip to the wonderful island of La Palma.