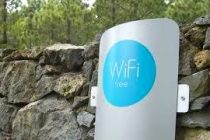 The Government of Tenerife has since August launched a new project, the task of which is the installation of free wireless Internet in major tourist locations. During the year, authorities plan to cover a large areas on the Canary Island by free Wi-Fi network. If the implementation is successful, tourists will be able to get free Internet access almost anywhere in Tenerife. The minimum network connection speed is 10 Mbps. It is planned to introduce 39 points of free access to the World Wide Web.
Already now, the connection to it is available in those municipalities of the island, which are visited by 4/5 of all travelers. These are the provinces of Arona, Santiago del Teide, Adeje and Puerto de la Cruz. In Arona, points with free Wi-Fi are installed in the port of Los Cristianos, on Las Galletas (the waterfront), in the territory of La Garagnanha Park and the most popular beaches, which you can see in real time with the best live webcams Tenerife. For the guests of the resort of Puerto de la Cruz, there are free access points to the Internet in the castle of San Felipe, on Colon Avenue, in the Charco square. One of access is situated in the area of the complax Lago Martianes swimming pool, witch so loved by tourists.
Free Wi-Fi will please tourists in the resort of Adeje. On the beaches of Troya and Fanabe, you can chat in Internet with your friends at any time of the day, relaxing from swimming in the ocean in a cozy chaise lounge. In Santiago del Teide, you can now catch free Internet in the Los Gigantes cliffs area. In addition to these facilities, you can find free Wi-Fi access points in all the mayoralties of 4 provinces.
Thanks to the new project, any tourist can enter the Internet not only in a cafe, restaurant and hotel, but also on the beach, avenues and streets. To do this, he will need to undergo an identification procedure, indicating in the columns his nationality and stopping place in Tenerife. The collection of information of this kind will help the authorities improve the tourist sphere. The Government of the Canary Islands, led by Carlos Alonso, is confident that the project to expand the zones of free wireless Internet will contribute to the flow of money to the island. For tourists, the World Wide Web will help them quickly get information about local attractions, infrastructure, food and entertainment. Using free Wi-Fi on the island, you can find and book a hotel for yourself at the best price, using the service Hotellook (the search form is located in the right column of the site).