[ad#cadiz]
Click on the arrow for move to the next webcam >>>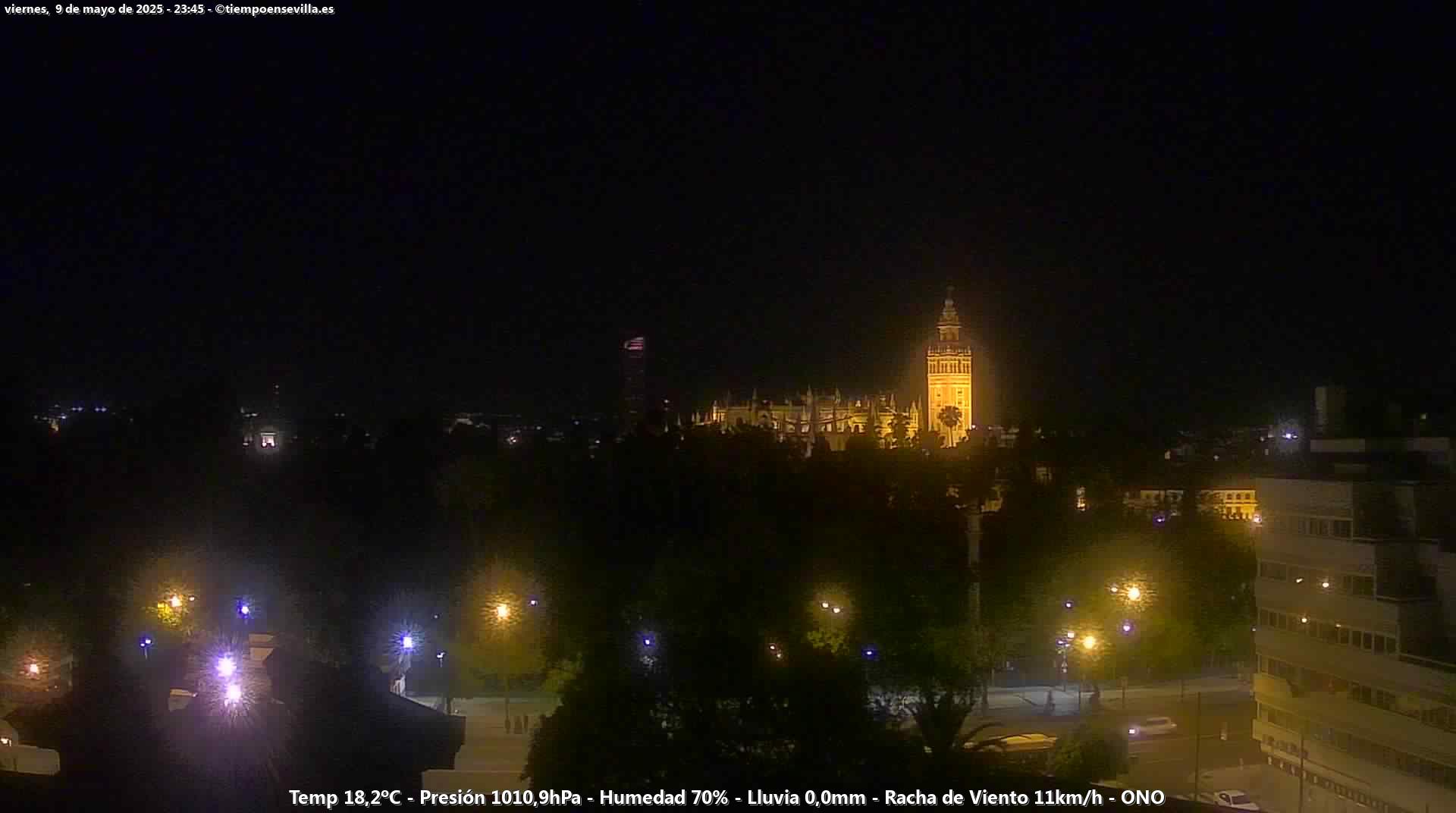 The webcam of Andalusia shows the panorama of one of the most beautiful cities in Spain – Seville. Thousands of tourists come here every year to see the amazing architectural structures, created by the hands of the Moors and Christians hundreds of years ago. Seville is the center of the autonomous region of Andalusia and the fourth largest city in the city. From 712 to 1248 the city was ruled first by the Arabs, then by the Berbers. Since then, Arab palaces and towers have remained in Seville. One part of these buildings has preserved the amazing Moorish architecture. In the shape of the other structures intertwined architectural features of several nations. Most tourists want to look at the most famous Seville attractions – the Giralda Tower and the Seville Cathedral, standing next to it.
Webcam of Andalusia – the view at Seville allows everyone to see the grand Giralda in the center of the broadcast pictures. This is an ancient quadrangular minaret, built in 1198. Its height was then 70 m. When Ferdinand III conquered the city, the mosque was slightly modified, and it began to serve as a bell tower. In 1568 was completed the superstructure in the Renaissance architectural style and crowned it with a statue of Faith. Now the height of this building is 114 m. Tourists can climb this tower and see the city in all its glory. Next to the Giralda stands the majestic  Seville Cathedral, which is the largest Gothic cathedral in the world. Christopher Columbus was buried here, and after 33 years his remains were transported to Haiti. Seville is a beautiful city with old buildings and beautiful parks. Not far from the Giralda is the Alcazar Palace, for 7 centuries it was the residence of the Spanish kings.
In the foreground of  Sevilla webcam  you can see beautiful parks and modern buildings. And to the left of the Giralda you can notice another tall object. This is a 180-meter skyscraper – the record holder of the city and the whole of Andalusia in height. On its 40 floors are offices of Spanish and world companies. The skyscraper is called the Torre Sevilla or the Pelly Tower, because the building was designed by the famous architect Cesar Pelli in 2015. You can find yourself in this beautiful city, flying at Malaga airport and arriving from the coast of Spain by bus or train. While you are planning your vacation, the Andalusia webcam will help you enjoy its beauty live. The picture, broadcast in HD-quality, is updated every 60 seconds.
[ad#end]