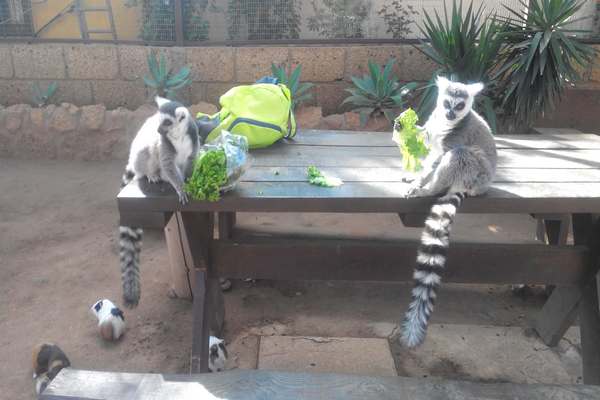 Monkey Park Tenerife is a small zoo in the south of the island, where you can not only look at the animals, but also feed and stroke them. Communicating with the funny inhabitants of park will especially appeal to children, but adults will also get great pleasure from it. How to get to Monkey Park Tenerife and who can be seen there is described in my article, which is equipped with many photos and a small video about the coolest animals living in the Monkey Park.
A few words about Monkey Park Tenerife
Monkey Park Tenerife was formed 27 years ago, in 1991, outside the city of Los Cristianos. They opened it to study the habits of rare monkeys and the preservation of these animals. A dozen different species of primates were brought here. Gradually the zoo was replenished with other inhabitants: amphibians and birds. Also, it appeared lemurs – animals, that live in the wild only in one corner of our planet – on the island of Madagascar.
In order to attract more visitors to the Monkey Park, it was decided to turn it into a contact park: a place, where you can talk closely with animals. Of course, you can not to feed all inhabitants and enter their territory. Some of them are in the enclosures, closed glass or in the cages. But with lemurs, monkeys and some other little animals you can make contact and unforgettably spend 1.5-2 hours here.
Who lives in Monkey Park Tenerife?
Since this place is called Monkey Park, its main inhabitants are various primates. Here you can see green monkeys, black baboon, bright tamarins Golden Lion, chimpanzee, etc.
In addition to monkeys, ring-tailed (cat-like) lemurs Katta and mongoose lemurs live in Monkey Park. This is a habitat for guinea pigs, turtles, iguanas, monitor lizards, degu, snakes, crocodiles. Also you will meet with green, white and wavy parrots, whose sonorous songs will cheer you up during a visit to the park. And you will see arakari green toucan.
Monkey Park opening hours and entry tickets
The monkey park is open daily from 9.30 to 17.00. Children's entrance ticket (from 5 to 12 years old) costs 5 euro, adult – 10 euro.
How to get to Monkey Park?
Unlike the famous Loro Park, which is located in Puerto de la Cruz, few tourists know about Monkey Park. This contact zoo is not within the city of Los Cristianos, but outside of it. But I will tell you how to get there in different ways.
1 way: by taxi.
If you are relaxing in Los Cristianos, Las Americas or Costa Adeje, you can order a taxi, that takes you to the miniature park in minutes. The fare is from 4 euros (Los Cristianos) to 7-12 euros from the rest of the resorts.
2 way: by public transport
Bright green buses of TITSA, unfortunately, will not take you to the Monkey Park. From Los Gigantes, Las Americas and Costa Adeje you can take the number 473, 343, 477 to the final stop in the city of Los Cristianos. Then you have to walk (see below).
3 way I tried: on foot
Since I lived in Los Cristianos, I decided to go to Monkey Park on my own two feet. My path lay first along Londres Street, and then along Avenguda San Francisco, which runs uphill past the tourist apartments. You should follow Avinguda before leaving the city – wide highway 655. In the place, where Avenguda San Francisco crashes into the highway, there is a terminus of buses, which I wrote about above. Now, those, who arrived by bus, and those, who walked, will have to go the same way, looking at the brown mountains of the south of Tenerife.
From Avenguda San Francisco you have to turn right on the highway and walk along the side of the road (there are no sidewalks, be careful !!!) for 10-15 minutes, until you see a gas station in front of you on the left.
Cross the carriageway and move along the path past the gas station. Ahead you will see a tunnel, passing under the TF1 motorway. You should go through it. Leaving the tunnel, you will notice in front on the left side the entrance gate to Monkey Park. It took me more, than an hour to get from the ocean to the park. I wandered a bit in the streets of Los Cristianos. From the hotel and the shopping center Passarella Oasis (from the stop in front of it, free buses go to Siam Park) to Monkey Park to go 35 minutes.
Method 4: on a rented car.
If you live in Los Cristianos, then by car you can get to Monkey Park in the same way as on foot, but with great amenities.
If you are relaxing in the Las Americas resort, drive to Las Americas (right) on the TF1 motorway for about 5 km, then turn right at exit 69 towards Las Galletas (TF 65). Soon you will see a signpost to the Los Cristianos (TF 655). The road will make a 180 ° turn, and you will drive 2 km along it to the filling station, mentioned above. True, unlike the path on foot, you will drive to it from the other side. Then you need to turn right and drive past the dispensers through the tunnel. And you are at the gates of the zoo!
What to feed the animals in the park of monkeys?
At the ticket office, along with the purchase of a ticket, you can buy pet food: small containers, containing green peas, corn, carrots, cucumbers and apples, chopped into pieces. This feed costs 3 euros.
It is not forbidden to bring food with you. It can be nuts and seeds for birds, apples and corn cobs for monkeys, green salad (in Spanish lechuga) for lemurs.
You can not bring with you bananas, dates, cookies. Although the inhabitants of the zoo are very fond of them, these products are too high in calories. A few years ago, Monkey Park visitors fattened animals so, that they developed obesity. Plump lemurs can now be seen in zoo. At the entrance you will be asked, what you have brought, and you will have to open your bag or package and show the products. If you have something forbidden, you will have to leave it at the entrance, and pick it up on your way back.
I heard beforehand, that lemurs are reluctant to eat food for 3 euros and love lechuga, I bought them a big head of lettuce, which they love. Looking ahead, I will say, that the animals were satisfied with my treat and ate it along with the guinea pigs.
When is it better to come to the Monkey Park?
Although Monkey Park is open all day, the best time to visit it is in the morning (9.45-10.30). At this time, the animals are fed by the servants of the zoo, and the hungry animals are very active. They run around people, asking for food from them. They can climb their arms or neck. But after an hour, they are already indifferently looking at the visitors and their sweets, brought or purchased in the booking office. Well-fed animals are passive, whether they climb up or sit almost without moving.
In the evenings, some of the animals (more in aviaries) will get hungry again, and you will be interesting to watch them again.
What not to do in Monkey Park in Tenerife?
Monkey Park visitors are not allowed to give prohibited foods to animals. Smoking is not allowed in the park and give cigarettes to the primates. You should not shout loudly here, knock on glasses, put your hands into the cage. It is undesirable to pet animals against their will: they themselves must make contact.
What can be seen in Monkey Park?
Even at the entrance to Monkey Park Tenerife you are greeted by a giant figure, a copy of an idol from Easter Island. And the territory of the park is decorated in eco-style. Everywhere there are stones, paling, beautiful cactus gardens, trees, bridges. Although many animals live here, you will not hear any unpleasant odors. Their homes are clean and spacious.
On the territory of the zoo there is a cafe, a photo lab, a veterinary office, toilets. Behind the booking office begins a zone with reptiles, a pool for a crocodile. Then you walk along the paths and examine the birds and primates in the cages. As in any zoo, on the enclosures there are information signs with the names of animals, a description of their habits, size and weight, and dietary preferences.
There are several contact zones in the park. The main of them is considered to be a zone of lemurs. Here at the time of my visit there lived 5 ring-tailed lemurs, 3 iguanas, a large tortoise and many guinea pigs. Lemurs descend from a high platform downwards and again climb to the top, and all other inhabitants slowly move or run along the ground.
I came to the zoo half an hour after its opening, and immediately went to the zone of lemurs. At this time, only one animal with a striped tail was sitting on the bench, and the other four were located on the platform. I handed the lemur a salad, but it idly glanced at the treat and, turning away, slowly walked away. I thought, that everyone was already fed up, I even a little upseted, because I came here mainly for the sake of katta.
Putting a letucce on the table and tearing the leaf from the head of the cab, I began to shoot a video. A few minutes later one of the lemurs began to descend from the platform and jumped on the table. It went to the green salad, grabbed it of own paws and began to gnaw a head of lechuga. Seeing this, the second katta followed suit, grabbing a separately lying leaf. It was interesting to watch these unprecedented animals and their breakfast. I stroked the lemurs. They had a very thick fluffy coat. Next, the other three katta tasted my treats. Several lemurs are, indeed, fairly plump. They are very funny fatties.
When the animals were eating letucce, some of the leaves fell to the floor, where guinea pigs immediately ran up and snapped scraps with greed. When the ring-tailed lemurs ate, they threw the remains of a head ofletucce to the ground, where a crowd of pigs attacked him and finished off.
I spent half an hour with these unusual animals, stroked a tortoise and an iguana, and then went to look at the other inhabitants of the park. I saw some monkeys for the first time, for example, narrow-nosed black dril and amusing green monkeys. And even behind the glass sat tamarins with fiery hair on their heads (golden lions). The white-faced gibbon moved along the branches and ropes. In the bird kingdom, the parrots chirped merrily, the toucan flew in circles, and the two white parrots made love.
I also saw a zone where the "family" lemurs live. Managed to look at their miniature, newly born cubs. I also visited the contact zone, where the mongoose lemur lives. It came down to me, when I handed him a piece of apple, but did not eat it. But I managed to stroke the fluffy animal. There are several zones with lemurs in the zoo, but most of them are in the first one, the one, where the turtle lives.
About visitors
At the time of my visit there were few people in the park. Several people roamed the zone of lemurs, but all without treat. And my letucce was really needed to them . And everyone watched, how Madagascar animals ate it. Then people gave them food for 3 euros, but the katta reluctantly took pieces of fruit. But at the exit in another zone, I saw, that one ring-tailed lemour took a corn kernel from a box from a woman. So I was glad, that I brought a lechuga and came early. Then I again looked into the first zone of lemours, but its inhabitants were already fed up with my treats, and the people there increased.
Most of the monkey park visitors are Russian tourists (women with children or families, several young couples). There are no crowds, and I walked alone around many of the enclosures.
Conclusion:
I spent 2 hours in Monkey Park. I saw enough of different animals and birds, fed lemurs. Emotions, that you experience from contact with our smaller brothers, are very warm and joyful. Therefore, I advise everyone: when you are in Tenerife, be sure to visit the Monkey Park, where you will have the opportunity not only to see unique animals, but also to chat with them, and also to take a lot of photos and videos, that will remind you of the Canaries, what can surprise.