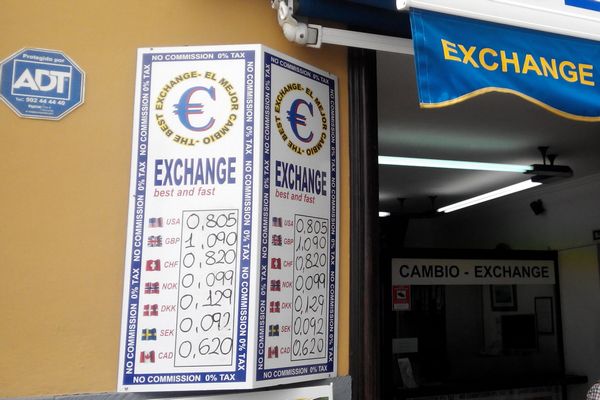 Going to rest in Spain, it is good to have the national currency of this country – the euro. But there are reasons, why you can not get enough of European money before the trip (for example, you have stable earnings only in British pounds or US dollars), so on vacation travelers often take their money from them, hoping to exchange them for the desired euros in the country, where they are going to spend 1-2 unforgettable weeks of relaxation. How is the currency exchange in Tenerife, and where is it more profitable to implement it?
Arriving at Canary Islands, you can find an exchanger in the airport hall. But the course there will be unprofitable for you. Therefore, knowing, how to get from the airport of Tenerife South to the resorts, and having a little euro with you, you will leave to the place of your holiday and will look for a more advantageous offer.
First of all you want to go on the easiest way and go in search of an ATM. If in a large city, for example, the capital of the island of Santa Cruz de Tenerife, you quickly see ATM, at the resort you will have to look it up. At the ATM you can withdraw the euro, if you have a debit or credit card "Mastercard" or "Visa". The commission in this case will be about 3%.
If you do not like to carry cash with you, you can pay of your cards not only in large restaurants and boutiques "Corte del Ingles", "Zara", "Benetton", etc., but also in many souvenir shops, located in bustling tourist places. Cards are also accepted in foods supermarkets. But if you wanted to buy organic products in the local market or decided to use public transport in Tenerife to get on a popular beach, then you need to have paper bills and coins and pay of them for the service or the goods, you like.
The second way to exchange money are banks. They are located in all the cities of the island (especially many of them are in Puerto de la Cruz). Every tourist should know, that the banks in Tenerife only work until two in the afternoon, on Saturday until one o'clock (13.00). So you should hurry to get the desired euros. The exchange rate in banks will be the most profitable. But even in the capital not all financial institutions will agree to conduct an exchange operation. For example, in Santa Cruz, some banks refuse to exchange money.
If you not lucky in the bank, or it has already closed, you should pay attention to the exchange points, which are accompanied by the inscription "Cambio". Most of them items are in Las Americas and Los Cristianos. They are located near or inside souvenir shops. You will see shields with written or printed information about the exchange rate from afar. Here to you will be accurately help, but the rate of the dollar and the pound will be smaller, than in the financial institution. For example, the bank will give you 84 euros for 100 dollars or 113 euros for 100 pounds, and in "Cambio" for a one hundred USD you will receive 81-83 European money in your hands or 111-112 euros for a one hundred pounds (the article shows exchange rates, effective summer of 2018).
In the city of Santa Cruz, you will spend a lot of time searching for points "Cambio". But in the port area you can find a VISANTA store, where CDs are sold. It itself is located below the street level, and above on the glass is written "Money change". They will help you, but the rate will be even lower – 75 euros for 100 dollars or 107 euros for 100 pounds. But if you do not have a choice and cash, you can take advantage of this offer. The store is open until 17.00.
In tourist Puerto de la Cruz with the exchange of money things are different. The most profitable course here offers an institution in the Old Town area near the gray church with the high bell tower of the Nuestra Senora de la Pena de Francia. Here you can get for a hundred American rubles 80-81 euros, and for 100 pounds 109 euros. The most unfavorable exchange rate in souvenir shops and in the exchanger Western Union. The best, what you can count on, is 70 euros for 100 USD. If you try to be indignant, they will assure you, that a big commission is taken in banks and 70 is a good price. For 100 pounds here you will be offered not more, than 105 euros.
Thus, deciding to exchange dollars and British pounds for the euro in Tenerife, you will in any case lose some of the money on the exchange, but in different places the loss will vary in more or less. Come to the island of eternal spring with cash euros or debit cards with this currency on the account and enjoy the beauties of Tenerife.