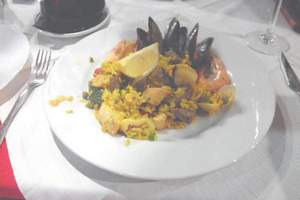 Traveling to Spain is not only a beach holiday and swimming in the waves of the Mediterranean Sea and the Atlantic Ocean. Being in another country, many tourists want to know more about its history and traditions. To this end, they visit the ancient cathedrals, palaces, with pleasure and curiosity watching the local rites and festivals, of which there are many in Spain. "Immersion" in the country – it is also an acquaintance with its kitchen. Even if you have a 5-star hotel with an all-inclusive function, be sure to take the time to try the famous Spanish dishes and enjoy their unusual taste.
Spain is famous for its meat and vegetable dishes, soups, and a large number of various sweets (cakes, cookies and desserts without baking). And although in all corners of Spain you can try gazpacho, paella or turron, in each province these dishes are prepared differently. Each province of the country has its own delicacy, which was invented in it. Only there you can taste the most delicious local dishes. So, being in Galicia, be sure to try the empanade pie, in Asturia, do not deny yourself the pleasure to taste the thick soup fabada, and in Castilia – sweet yolks of St. Teresa.
After returning from vacation, you will often remember the taste of Spanish food and dream of trying it again. But if you like to spend time in the kitchen, you can cook Spanish dishes at home. And this will help you to our site. Since July, in cooperation with Recipes International, we will launch a series of articles on the most famous dishes of Spanish cuisine. The articles will contain information about the history of the emergence of Spanish delicacies, a step-by-step description of their preparation, as well as a video recipe in Russian with English subtitles. Thus, you can conjure in your kitchen and create an almost Spanish delicacy. We will try to publish some simple recipes here, so that everyone can cook them, even if this time – is the first time.
Love Spain as we love it, and you will surely succeed. We wish you more often to travel around this amazing country and taste it. Successes in the kitchen and bon appetit!